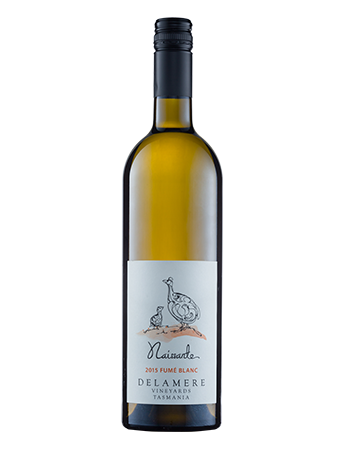 Vintage Conditions
2015 Vintage tested us and once again we prevailed. To begin, a warmer than average spring produced early bud burst. Thankfully flowering conditions were perfect. Then the fun began, January saw a dramatic drop in temperature only to rise again in February then rain in March. Our fruit hung on to receive three weeks of lovely cool but sunny weather in April. Another classic vintage for Delamere.
Winemaking
The fruit for the Naissante Fumé Blanc is sourced from a slightly warmer vineyard on the East Tamar providing the perfect base for an oaked Sauvignon Blanc. The 2015 Fumé Blanc was fermented and matured for ten months in French oak, 50% new barrels.
Tasting Notes
Stone fruits and a hint of tropical flavours combine with a smoky, rich texture to create an interesting and complex take on traditional Sauvignon Blanc. More restrained and mature than is expected of this grape variety, this is a wine that keeps on giving on the palate.
Food matches
The Naissante Fumé Blanc is the perfect match to Tasmanian scallops, goats cheese and asparagus with prosciutto.